What's unique about PlateRate?
There's Yelp, Trip Advisor, Zagat and now there's PlateRate. PlateRate helps you find and share the food you love. Read on to find about the PlateRate difference.
Why you want PlateRate in your neighborhood
A fun introduction to PlateRate
FlavorMatch and Food preferences
How we help people find better tasting food, and those with allergies, special diets, and food quality preferences (Cruelty free meat, organic, etc)
Follow PlateRate's Youtube Channel
Summary
Find what meets your dietary preferences at any restaurant
Eating out for someone that has dietary needs can be a nightmare. PlateRate makes it easier. when you set up your account you tell us your dietary preferences. Just check the boxes. We keep track of what food meets over 45 dietary preferences. Its doesent matter if you are a have a nut allergy, celiac disease or a vegetarian, we will make suggestions for you that are verified by restaurants or crowd sourced from other platerate users just like you.
Here's what it looks like when a vegetarian filters on the menu at The Organic Grill:
(Green menu items are vegetarian, orange can be requested as vegetarian):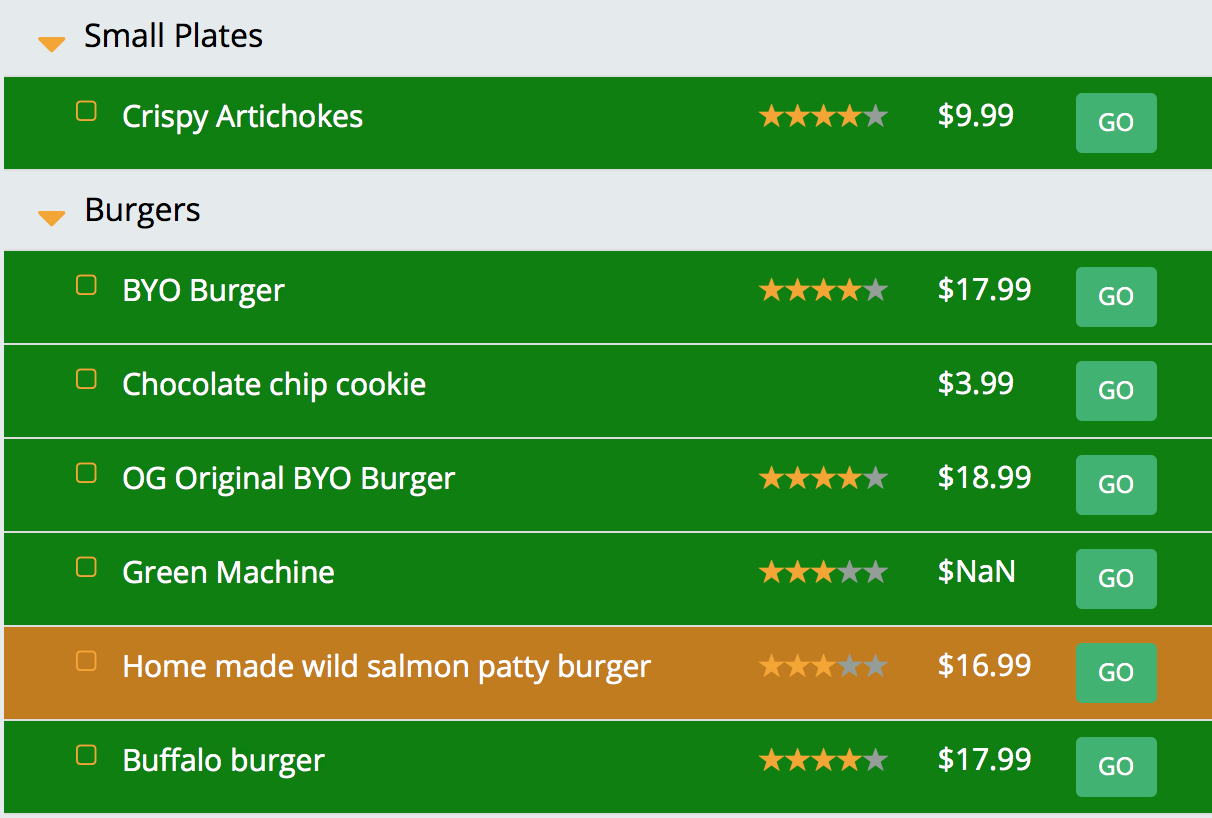 ---
FlavorMatch
So many flavors, so many dishes to try, so little time. How many times do you eat out a week, a month or a year? What if there was a way to know what meals you would like more than others so every meal out or in (can't live without delivery) would be great.
Have you ever ordered something at a restaurant expecting one thing and it turned out to be something completely different? Or you ordered a dish and it was the best thing you've ever had and you'd like to try something else like it. With the PlateRate FlavorMatch it is possible.
Too sweet, Too spicy, Not spicy enough? It doesn't matter. Part of the menu item review process on PlateRate is adding a guru review where you can rate the full sensory experience: sweet/salty/savory/spicy/bitter/sour.
If you've ever watched a cooking show competition on TV you know how the food is displayed is part of the overall score. You know from personal experience that how your meal looks can affect your overall experience. In the Guru review you can also review plating (how nice a dish looks), serving size, and how healthy it is.
Once everything is entered we create a match score between you and each menu item across restaurants with a guru review.
Notice out of these menu items the Cajun Steak has the highest match score, so you'll probably like that one the best!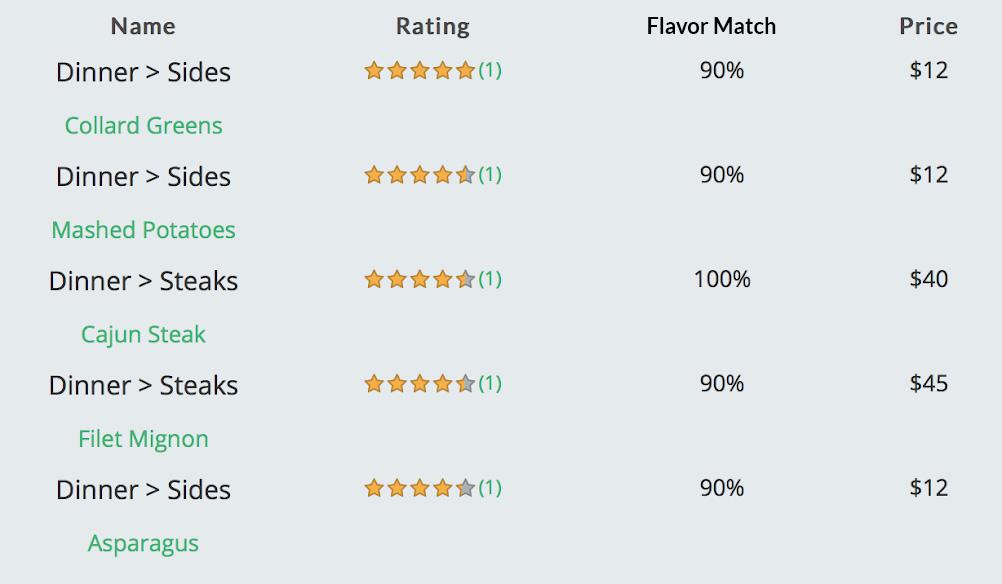 ---
We'll help you find the best of any food and drink anywhere
PlateRate is dedicated to helping you find the best rated anything, anywhere. Just enter what you are looking for with a location and we will show you who serves it and where to get the highest rated one. We show you the highest rated first, not who pays us the most money like the competitors.
Here's a search for burgers by Penn Station, New York: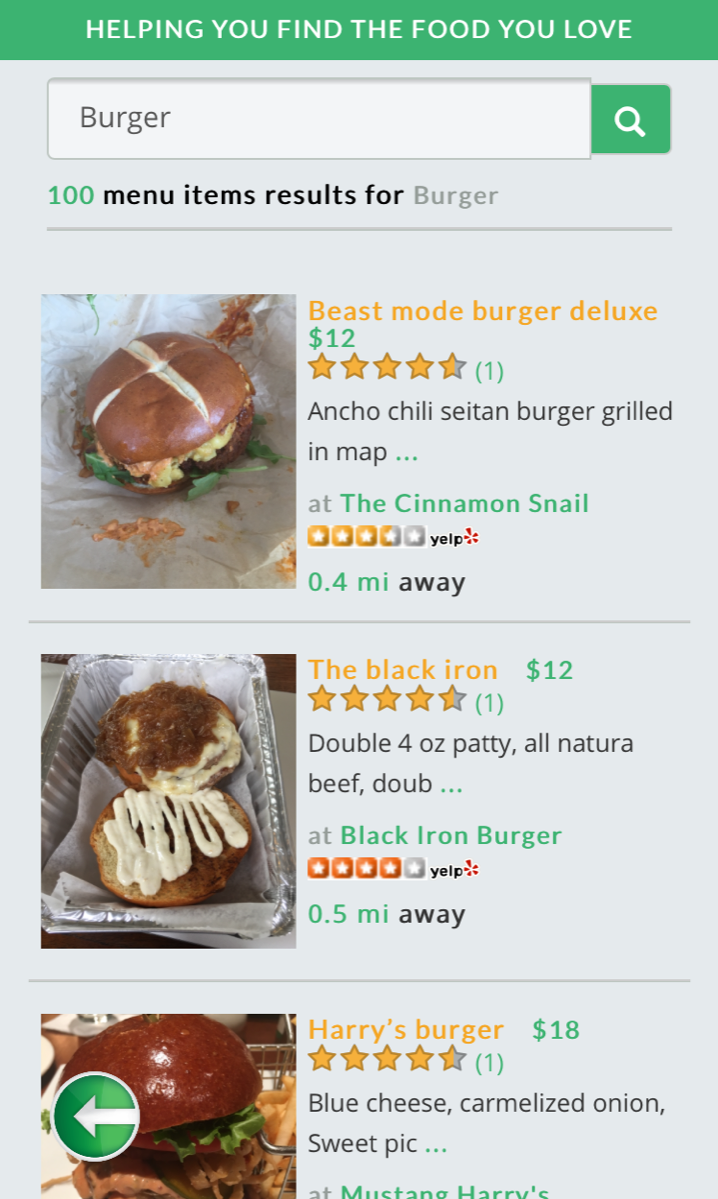 ---
Your personal food journal to share your favorite food and drink with friends
We all remember the best and worst food we've had, but we'll help you remember exactly how much you liked everything you've rated. This way you can know whether you should order it again or order something new.
We're like a personal food journal to keep track of your favorite food and drinks, anywhere around the world (yes, PlateRate works internationally!). If you have a great pizza in Napoli, rate it on PlateRate so your friends can find it when they're traveling to Italy. PlateRate's food journal capability will make it easy for you to share your favorite foods with all your friends (they can just look at your profile and see everything you've rated!). It's also a great way to keep track of everything you've eaten and exactly how much you liked it.
Coming soon - Discounts
Sign-up early and become eligible to receive up to 80% discount on your favorite food at restaurants. Stay tuned for this exciting feature, as the people who use it first will get the biggest discounts! So keep using the app and you'll be the first to discover our big discounts at our partner restaurants!
Why use PlateRate instead of the competition
We don't accept money to change search results - ever. We're focused on finding you the most useful search results for you. We always provide accurate search based on your request.
Our competitors sort based on who pays them more money. They steer you to their most profitable customers. Here's an example of this in the news: https://gizmodo.com/stop-using-seamless-1822741251
Main takeaways from the article:
Seamless and grubhub make more money from some restaurants than others
They will show you the restaurants that are most profitable for them, even if they're not the highest rated and you asked for the highest rated restaurants
This is a pretty clear example of putting profitability before honesty and accuracy, which is something PlateRate will NEVER do. Our first cultural value is integrity, before everything including profitability.
Here's how you can find proof of this corruption yourself:
If you want proof of this, try going to Seamless/Grubhub's website and sort by their "Default" sort for restaurants. You'll notice the top restaurants are 5 or 4.5 stars, then it goes down to 4 stars, but then you will see 4.5 star restaurants again below the 4 star restaurants. As the news article states the 4 star restaurants paid more than the 4.5 star restaurants to be shown above them... Try this test with any other ratings website you use and see if they sort honestly or not. If you see this on PlateRate, its a bug and you should report it. Let us know at feedback@platerate.guru, and we will fix it so we're sorting correctly (though it should never happen with us).
PlateRate's #1 cultural value is integrity first - over everything including profitability. If you want to support a company that values integrity first, support us by using our app!
In addition, PlateRate dedicates 5-10% of its revenue every year towards doing social good. So by supporting us, you're helping make the world a better place. For more questions about the social good we plan to do feel free to email us at socialgood@platerate.guru.
We want your feedback
If you have an idea for us, or there's something that you don't like about the site, let us know at feedback@platerate.guru. We read every piece of feedback we get! We want to build your dream food-tech app, and we hope we're off to a good start in doing so. But if not let us know what would get us there!